Dedicated with lots of Mommy love to my
Adhi
(the child of my heart my dream baby who grew in my heart and is there forever) and my
Devu
(the child of my womb my baby who grew in my womb and is in my heart forever)
…till eternity both are my own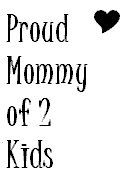 "Affection is the glue that bonds families together."
some of the poems that i like on mom's love for kids...
What I Would Do For You my child....
I would do just about anything you'd ask,
For you there's nothing I wouldn't do, there's no such task.

I would walk without my shoes to the end of the Earth,
I would give up anything I had to, to teach you self worth.

I would hold your hand every minute of every day,
But I won't because I know you need to find your own way.

I would surely bear the heartache of your first love that's real,
Even though I can't, I will naturally feel as you feel.

I would sell my soul if it would keep you happy forever,
I would give my right arm to keep us forever together.

I would run a hundred miles up-hill in the rain,
Just to guarantee that you will never feel pain.

I would laugh with you even if I was sad,
I will give you a smile even if I'm mad.

I can only accept your mistakes with a grin on my face,
I will guide you in correcting them, but at your own pace.
I will guide you through life, as this world can get quite wild,
Just don't you ever forget that you will always be my child....
Greatest Love
I always knew I'd be a mom
since I was just a girl.
And when God blessed me with you two
you each became my world.
He said now take these precious gifts
and show them greatest love.
Because he gave them here to me
from Heaven up above.
He said to teach them what is right
by what you do and say.
And please remember as a mom
to teach them how to pray.
The years go by so fast you know
no matter what we do.
And wherever that your paths may lead
my heart will go with you.
I only hope I served you well
and showed you greatest love.
I hope I taught you how to pray
and thank your God above.
Always remember,
to be your mom
is a blessing everyday.
For to me God sent a precious gift
Adhi & Devu
The child of my heart.......
Never forget for a single minute,
but still miraculously my own.
that you grew not under my heart,

but in it……
I didn't give you the gift of life,
The love I feel is as deep and real as if it had been so.
For us to have each otheris like a dream come true!
No,I didn't give you the gift of life,
Life gave me the gift of you….
All children come from God,
for some the journey home
just takes a little longer..........
All my blessings & prayers are always for my naughty boomerang Adhi & my lovely chirpy Angel Devu***
A baby asked God, "They tell me you are sending me to earth tomorrow, but how am I going to live there being so small and helpless?"

"Your angel will be waiting for you and will take care of you."

The child further inquired, "But tell me, here in heaven I don't have to do anything but sing and smile to be happy."

God said, "Your angel will sing for you and will also smile for you. And you will feel your angel's love and be very happy."

Again the child asked, "And how am I going to be able to understand when people talk to me if I don't know the language?"

God said, "Your angel will tell you the most beautiful and sweet words you will ever hear, and with much patience and care, your angel will teach you how to speak."

"And what am I going to do when I want to talk to you?"

God said, "Your angel will place your hands together and will teach you how to pray."

"Who will protect me?"

God said, "Your angel will defend you even if it means risking it's life."

"But I will always be sad because I will not see you anymore."

God said, "Your angel will always talk to you about Me and will teach you the way to come back to Me, even though I will always be next to you."

At that moment there was much peace in Heaven, but voices from Earth could be heard and the child hurriedly asked, "God, if I am to leave now, please tell me my angel's name."
"You will simply call her,

'Momma.'"
"Motherhood is the keystone of the arch of matrimonial happiness."